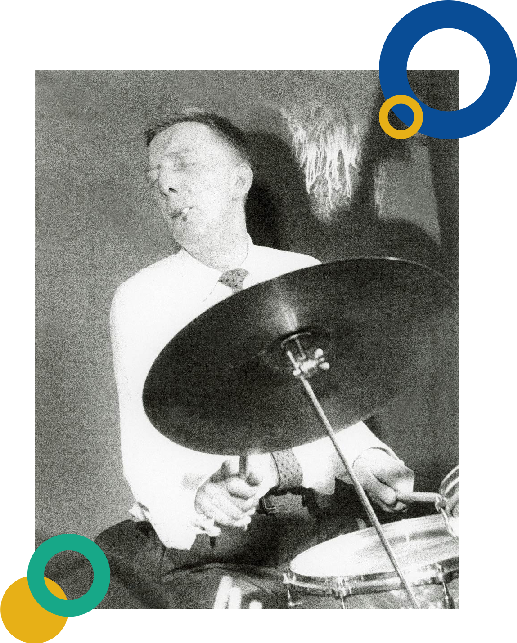 Phillip William Seamen was born in Burton on Trent, the beer capital of Britain on 28th August 1926. He started playing drums, that he referred to as his 'Heinz 57 kit', when he was four years old in a school band. Leaving at 14, he got an electrical apprenticeship at Marston's Brewery where his father Joe was Foreman in the Union Room. Phil discovered jazz, buying 78s by Count Basie and Gene Krupa, and practised to them with the window wide open, much to the annoyance of the neighbours. He joined Tony Reynolds's local semi-professional band. They played at venues throughout the Midlands and won the Birmingham and District Dance Band Championship.
Having completed his apprenticeship, in late 1945 he turned professional and went to London to join Nat Gonella's Georgians. He took the capital by storm and as word got around, he was in demand. Paul Fenoulhet, Tommy Sampson, and Joe Loss all came knocking. Phil was living his boyhood dream! In 1951 he joined Jack Parnell's first band. With Jack also being a drummer, Phil devised a synchronised duet that they did together, the first time this had been done. He was part of the Parnell band's 'Minor Riot' and backed Billie Holiday at the Royal Albert Hall.
Phil started to attract controversy and criticism from the musical establishment because, according to them, he didn't hold his drum sticks correctly. He held them in what Charlie Watts has referred to as 'timp style,' that is now referred to as 'the Matched Grip.' In his teens, he had been 'sacked' from the local Boys Brigade Band' for holding his drum sticks in the same way. Phil still refused to change and was the pioneer of the way most drummers hold their sticks today.
Phil discovered Charlie Parker and Dizzy Gillespie's 'bebop' and became part of the drug culture that developed amongst jazz musicians. He also discovered the layered and melodic approach of African drumming and analysed music from Cuba and the Caribbean.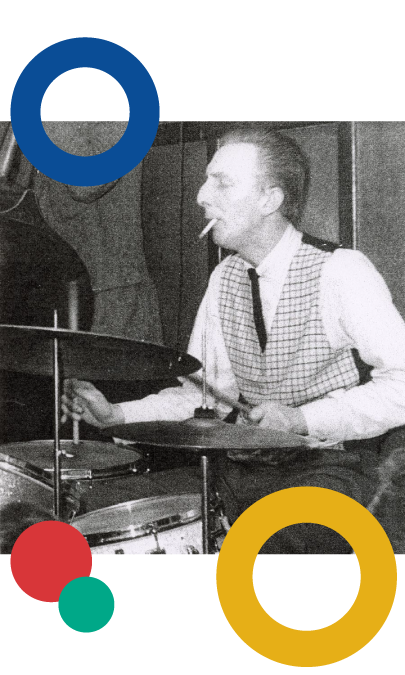 Phil played with all of the jazz 'big names' of the fifties. Ronnie Scott, Tubby Hayes, Stan Tracey, Victor Feldman, Kenny Graham and Joe Harriott. You name them, he played with them! He was stopped by Customs from going to America with Ronnie Scott and was offered the drum seat and played in Leonard Bernstein's West Side Story. He played with the Jazz Couriers and was in at the start of Joe Harriott's Free Form jazz. Their album receiving a five-star rating from the American DownBeat magazine, the first British jazz recording to do so. He topped the Melody Maker's Drummer Poll.
There are hundreds of stories where the Phil Seamen legend looms large. He was larger than life and he did do all the outrageous things people talked about. Fearless and a rebel, he was afraid of nobody. His talent, sat at his drum kit, did his talking for him! His cry of 'nurse' to a barmaid and 'skint' at the sight of a Rolls-Royce were typical. He was banned from restaurants, had problems at the Polish Embassy and with a TV producer in Rome. Everything happened to Phil!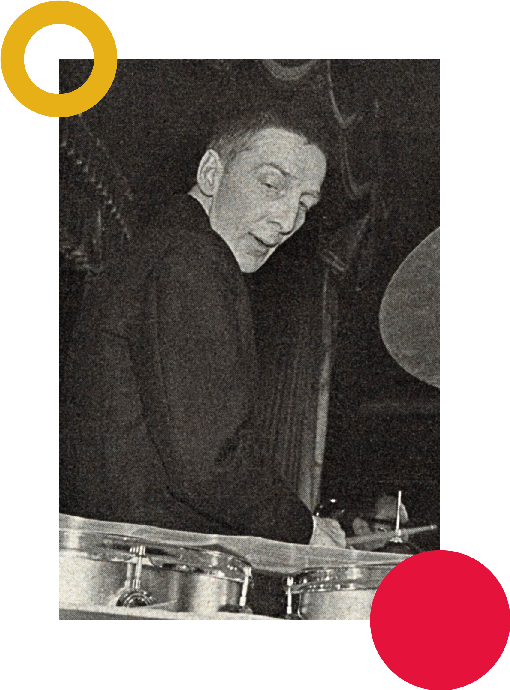 Charlie Watts said: "Phil Seamen was my idol, and he influenced a whole new generation of drummers. There is a legacy of players who emanate from Phil." Jon Hiseman, Mitch Mitchell, John Marshall and Keith Moon all knew him. Phil recognised Ginger Baker's potential, (who went on to play in Cream), and taught him where the African beat was.
Phil struggled with his drug problem. He returned to Burton to dry out and spent almost twelve months at home. A phone call from Alexis Korner to join Blues Incorporated, saw him return to London. It proved his adaptability and caused quite a stir. He later was to become one of Georgie Fames Blue Flames. People didn't believe he was 'clean,' and he gradually returned to his drug habit. Studio work with Acker Bilk, Cilla Black and Donovon amongst many others followed and film work on Alfie starring Michael Caine. He played with the new wave of emerging British jazz talent, in the 60s, that included Dick Morrissey, Harry South, John Stevens, Tony Coe, and Dave Green which was mainly in pubs. Phil also backed the American visitors to Ronnie Scott's such as Stan Getz, Al Cohn, Zoot Sims, Roland Kirk and Freddie Hubbard and again topped the Melody Maker's Drummers Poll.
In late 1969 when Ginger Baker formed Air Force, he asked Phil to join. Ginger also recruited Steve Winwood, Rick Grech, Denny Laine, Chris Wood and Graham Bond. Phil returned to the big stage at Birmingham Town Hall and the Royal Albert Hall and Festivals at Boulogne, Keele University and Plumpton Racecourse.
In the late sixties and early seventies, Phil enjoyed something of a renaissance and was asked to record a number of LPs that were released in his name. This was something he had never done before, always playing in other people's groups and bands. On Friday 13th October 1972, tragedy struck. His lifestyle and drugs finally caught up with him. He died in a flat in Old Paradise Street, Lambeth.
"JON HISEMAN "HE MADE A PACT WITH THE DEVIL, AND IT KILLED HIM."